Clemson Memorial Stadium Seating Chart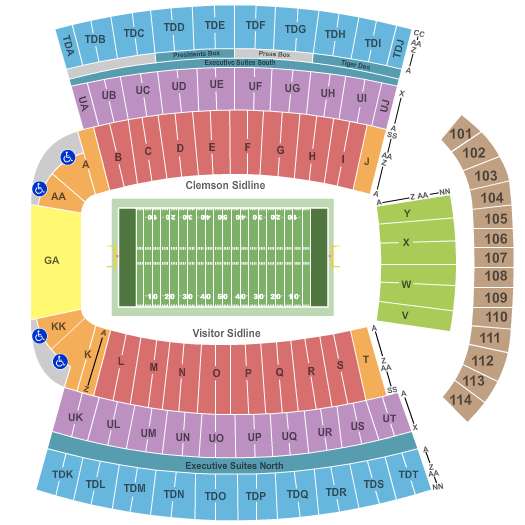 NOTE: Seating layouts may change depending on the type of event. Please check the individual seating chart when selecting your tickets.
The seat numbers for Clemson football are a bit different than your typical college football stadium. The entrance to each section is located in the center of it. Aisle seats are marked by seats 1 or 2 on each side. The seat numbers that follow are odd or even depending on the starting number.
The vast majority of seats are bleacher seating, meaning no chair backs. The only designated sections with chair backs are the West Zone Club and covered seats. You may find chair backs in other sections, but that is because longtime season ticket holders will have chair backs.
The students at Clemson University are allotted 11,000 tickets. The tickets they are given are in section A-B, AA, and KK in all levels (both U and TD). The Hill is also the student section. All these sections are general admission, meaning your location is determined on a first come, first serve basis. However, student tickets are generally unavailable on the secondary market, as student ID's are typically required to gain entry into the sections.
The club sections for the Clemson Tigers are located in the only numbered sections in the West End zone, sections 101-114. They run rows A-G and the seats have chair backs.
The Clemson Tigers Suite Level is located on the North (Clemson sideline) and South (Visitor sideline) sides of the stadium. They are located in between the Upper and Top Deck sections. The North suites include 22 tickets and the South suites include 12 tickets. Both suites ticket holders will be provided with VIP parking, theater style padded seating, HD TVs, and retractable windows.
All premium seatings are the best to enjoy the game. But, if you would like to join the crowd for a good game, you can choose to sit at Section G-D as a Clemson Tiger Fan. If you are a a visiting team fan, it is best to sit in Section Q-N.
Reserve your seat today by ordering your tickets. Head over to the Upcoming Events page to get started.
For information on the ticket & refund policy please view the Clemson Memorial Stadium ticket information page.
For all upcoming events at the Clemson Memorial Stadium at Clemson University please check out the Clemson Memorial Stadium events schedule.